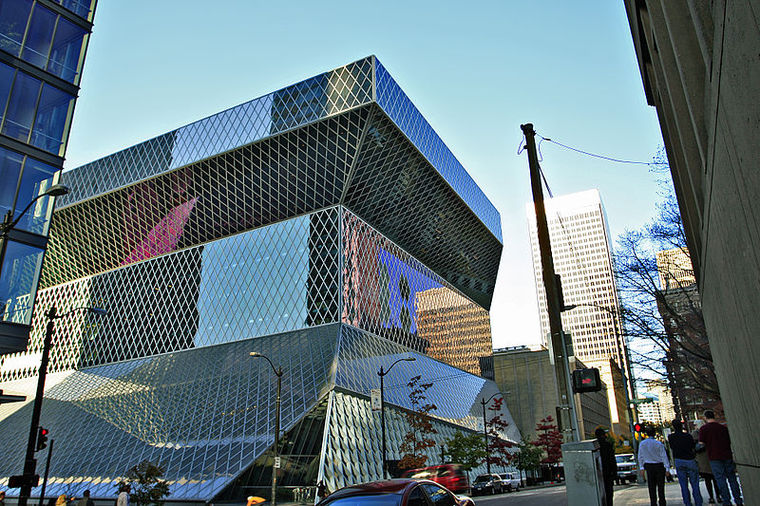 Conceptual Architecture
Conceptual architecture is an architectural movement and an architectural form which involves the use of concepts (or ideas), similarly as conceptual art. The outcome or the finished building doesn't have the central role in conceptual architecture like this is the case in the traditional architectural forms. Instead of construction and craft, conceptual architects are guided by ideas which are expressed mainly through texts or installations.
Some of the most prominent conceptual architects include:
Diller, Scofidio + Renfro. A New York based design studio is best known for incorporation of the performing and visual arts into architecture including the modern staircase designs in the building. The studio is led by Elizabeth Diller, Ricardo Scofidio and Charles Renfro who, however, are aided by a team of architects and artists.
The best known works by Diller, Scofidio + Renfro include the Lincoln Center for the Performing Arts in New York, the Institute of Contemporary Art in Boston, the Blur Building for the Expo.02 in Yverdon, the Brown University's Granoff Creative Arts Center in Providence, the Museum of Image and Sound in Rio de Janeiro and the Broad Art Museum in Los Angeles. For their work, the studio also received a number of awards including the MacArthur Genius Award (as Diller + Scofidio), the American Academy of Arts and Letters' Brunner Prize and the Smithsonian's National Design Award. Recently, the architects also became fellows of the Royal Institute of British Architects.
Bernard Tschumi. Usually described as deconstructivist architect, Bernard Tschumi is also associated with conceptual architecture and some contemporary garden furniture designs.. He rose to prominence as architect in the early 1980s, especially after being commissioned to design the Parc de la Villette in Paris which was his first major public work. Other notable works by the French-Swiss architect include the Alfred Lerner Hall for the Columbia University in New York, the New Acropolis Museum in Athens, Vacheron Constantin building in Geneva, the Blue Condominium in New York and Limoges Concert Hall in the French city of Limoges.
Peter Eisenman. Just like Tschumi, Eisenman is also associated with deconstructivism but he is also widely regarded as one of the most notable conceptual architects. Some of his best known works include the Falk House in Hardwick (Vermont), House VI in Cornwall, the Wexner Center for the Arts in Columbus (Ohio), the City of Culture of Galicia in Santiago de Compostela and the Memorial to the Murdered Jews of Europe in Berlin.
Rem Koolhaas. The Dutch architect, urbanist and architectural theorist is one of the most influential architects of the late 20th and early 21st centuries. The co-founder of the OMA architectural firm in Rotterdam and the co-founder of the Volume Magazine has designed some of the most iconic buildings in the world including the Casa da Musico in Porto, the CCTV Headquarters in Beijing, the Serpentine Gallery in London, Torre Bicentenario (Bicentennial Tower) in Mexico City and the Seattle Central Library, to mention only a few.